Blueberries:           
Aphids: In most cases, aphid colonies have already been treated. Growers have used various products with varying results.
Where aphids either have not been treated, or treated with ineffective materials, then populations are higher this week than compared to last week. Growers with significant aphid populations will have to "sandwich" an aphid spray between control for SWD, since SWD is now the main insect to be concerned with at this time. If still treating for aphids, remember to use an aphid-effective material. A number of growers have used Brigade/Bifenture and other pyrethroid materials. To reiterate from last week, THESE ARE NOT EFFECTIVE TO CONTROL APHIDS, the vector of Blueberry Scorch Virus. Aphid effective materials include any of the neonicotinoids like Assail, Actara and Admire, the related 4D and 4C materials – Sivanto and Transform, the group 28 material Movento. The premix Senstar, contains the same active ingredients as in Movento and Esteem. Cormoran contains the same ingredients as is in Assail and Rimon. Exirel is also an option, is effective for aphids, excellent for SWD, but not systemic.
A few field observations (not replicated plots) from this past week on aphid control show the following for Sivanto, Movento and Bifenture applications and aphid populations in "high count" fields:
Grower, Insecticide, Application Date
Count Date & % Infested Terminals
Count Date & % Infested Terminals
Count Date & % Infested Terminals
% Aphid Control
A – Bifenture, 5/25
5/20 – 20% B
5/28 – 26%B
6/2 – 46%C
-230% (gain) @ 8 days
B – Sivanto, 5/25
5/24 – 58% B
5/31 – 10% A
6/7 – 0%
100% @ 13 days
C – Movento, 6/1
5/24 – 22% A
5/31 – 44% B
6/7 – 4% A
82% @ 6 days
Key: Numbers are the % new shoots infested with aphid colonies. Colonies are rated for size: A=1 aphid, B=2-5 aphids, C=5-10+ aphids. Sivanto and Movento are slow acting but cause rapid cessation of feeding.
Spotted Wing Drosophila (SWD): SWD adults were captured during the last week of May in the Hammonton area, and continue to be active in both Burlington and Atlantic County fields. This will be the main pest of concern through the ripening phase. SWD populations will increase as the season progresses, and become more of a challenge to control in later varieties. The strongest insecticides for SWD control are the pyrethroids (Grp 3A), Imidan & malathion (Grp 1B), Lannate (Grp 1A), Delegate & Entrust (Grp 5), Exirel and Verdepryn (Grp 28), and the premix Cormoran (acetamiprid + novaluron)(Grp 4A+15). Please see last week's article on SWD insecticide rankings.
 Plum Curculio: During this past week PC berry damage (infested fruit) averaged .008 berries per bush with a high of .3 per bush. This is down significantly from the previous week, and shows a steady drop of infested fruit. Never the less, any grub infested fruit that makes it through the picking, will be soft. Make sure to set your firmness sorter to remove any soft fruit.
Blueberry Trap Counts and Data Summary
Week Ending
CBW Adults/Bush (Beating Tray)
Leps./Bush (Beating Tray)
PC/Bush (Beating Tray)
Gypsy Moth/Bush (Beating Tray)
Avg
Max
Avg
Max
Avg
Max
4/9
2.1
21
–
–
–
–
4/16
1.5
6.6
–
–
–
–
4/23
–
–
0.014
0.1
0
0
4/30
–
–
0.008
0.1
0.017
0.4
0.014
0.4
5/7
–
–
0.023
0.2
0.061
0.7
0.049
1.5
5/14
–
–
0.04
0.5
0.03
0.6
0.05
1.7
5/21
–
–
0.02
0.3
0.04
0.6
0.026
1.2
5/28
–
–
0.002
0.1
0.002
0.1
0.002
0.2
Week Ending
% Leps injury to Berries
% PC injury to Berries
Avg
Max
Avg
Max
5/14
0.13
2
0.68
7.8
5/21
0.13
1.8
0.80
9.8
5/28
0.013
0.5
0.13
3.7
6/4
0.002
0.2
0.008
0.3
Week Ending
% CBFW injury to Berries
% CFW injury to Berries
Avg
Max
Avg
Max
6/4
0.009
0.1
0.005
0.1
SWD, OB and BBM Trap Counts
Week Ending
SWD – AC
SWD – BC
OB – AC
OB – BC
BBM – AC
BBM – BC
Avg
Max
Avg
Max
Avg
Max
Avg
Max
Avg
Max
Avg
Max
6/4
1.5
8
0.375
3
3.9
32
0.25
1.0
0
0
0
0
Key: CBW = cranberry weevil, Leps = Lepidoptera larvae/bush and % injured berries, PC = plum curculio adults per bush & % injured berries, CBFW = cranberry fruitworm adults per trap, CFW = cherry fruitworm adults per trap, SWD = Spotted Wing Drosophila, OB = Oriental Beetle, BBM = Blueberry Maggot Fly, AC = Atlantic County, BC = Burlington County
Week Ending
CBFW/Trap (AC)
CFW/Trap (AC)
CBFW/Trap (BC)
Avg
Max
Avg
Max
Avg
Max
5/7
0.076
1
5/14
0.12
4
5/21
0.14
3
10
42
0.66
1
5/28
0.08
3
5.4
32
0.41
0.2
6/4
 0.06
2
1.65
15
0
0
Key: CBW = cranberry weevil, Leps = Lepidoptera larvae/bush and % injured berries, PC = plum curculio adults per bush & % injured berries, CBFW = cranberry fruitworm adults per trap, CFW = cherry fruitworm adults per trap.
Peach:
Oriental Fruit Moth: We are still between 1st and 2nd generations at the present time. Growers that have utilized mating disruption for OFM should continue to focus on PC; GPA; and catfacing insect pests as described below. Second generation timings will be in about two weeks in southern counties. Overall the adult population is low, but above the treatment threshold of 8 moths per trap on some farms in northern counties.
OFM 2nd Generation Timing
Insecticide Type
County/Region
Degree Days by  6/8base 45
Conventional

1150-1200, 1450-1500

Diamide

1050-1150, 1375-1450

Gloucester – Southern
960
1st – June 15-17

2nd – too far off

1st – June 12-15

2nd – too far off

Hunterdon – Northern
879

1st – June 19-21

2nd – too far off

1st – June 15-19

2nd – too far off
Green Peach Aphids (GPA): Scouting has shown that GPA is not a problem in most orchards. However there are isolated spots in northern counties where 2 colonies per tree can be found. This is still below the treatment level of 5 colonies per tree in peaches. Although it's 1 colony per tree in nectarines. As mid-June approaches, most of these aphids should leave and find alternate hosts. Therefore, treatments should not be needed. If aphids do increase over the next week to treatment levels, and your ground cover is clean of blooming weeds, a good choice that will cover catfacing insects, aphids, and plum curculio stragglers is Thiamethoxam (Actara and in VoliamFlexi). Actara will not control OFM. Examine trees for the presence of colonies by standing back and looking at the entire tree.
Scale Insects: White peach scale (WPS) crawlers should have emerged in southern counties. San Jose scale (SJS) crawlers usually begin emergence in late May/Early June. If you have scale infestations on your trees, it is important to note if crawlers are present, even if you treated with oil in the early spring. See last newsletter and the 2021 Tree Fruit Production Guide for control options.
Bacterial Spot: Maintain tight covers with antibiotics until pit hardening. Typical antibiotics used include various copper and oxytetracycline formulations. Full covers with at least 100 gpa are recommended around wetting periods or severe weather. Some bacterial spot is present in northern counties.
Peach Scab: In addition to Rusty Spot and Bacterial Spot, peach scab requires protective applications starting at petal fall. Peach scab cankers begin to expand at bloom and by shuck split begin to shed spores during wetting periods. Topsin, Topsin/Captan combinations, Flint Extra, Inspire Super, and especially Quadris Top applied at petal fall are the best materials for blocks that had scab last year. Quadris Top, Flint Extra and Topsin should be used at the high rate to suppress overwintering lesions on the wood. Quadris Top contains azoxystrobin which is phytotoxic to many apple varieties. Phytotoxic residues can remain in the tank for long periods after an application is made, even if a tank cleaner is used. Do not use Quadris Top or Abound in the same sprayer used for apples. Bravo (chlorothalonil) is also a good protectant that may be applied no later than shuck split. Captan is also helpful in cover sprays after shuck split where scab was troublesome last year. Maintain effective scab materials in cover sprays through June.
Rusty Spot: Rusty spot symptoms continue to appear, and infections are ongoing until pit hardening, which usually occurs around June 16. If you are using Flint Extra, Inspire Super, or Quadris Top for scab, these materials will also control rusty spot. After petal fall, maintain coverage with effective materials such as Rally, Rhyme, or potassium bicarbonate products.
Cherry:
Spotted Wing Drosophila (SWD): Cherries will need SWD protection. Effective insecticides for use on cherries include Asana, Baythroid, Cormoran, Danitol, Delegate, Entrust, Exirel, Imidan, Lambda-Cy/Warrior, Mustang Maxx, Malathion, and Verdepryn. Check the 2021 Tree Fruit Production Guide for PHI's and REI's for U-Pick operations. See last week'sarticle; "2021 ranking of insecticides for their performance against spotted-wing Drosophila." Note that many insecticides that may be registered for a specific crop may not be effective for SWD control. It is generally best to stay with products that are rated "good to excellent" for control, unless specific circumstances merit the use of another product, or used in rotations with "good to excellent" rated products.
Apple:
Codling Moth (CM): The second application is due later this week if using diamides and by June 9 if using other materials. See the chart below for timings based on location and the chemistry being used. In southern counties trap captures have been very low until last week when adult moths were caught in numbers above 5/trap, which is the treatment threshold. Use the degree timing unless moth counts are above 5 males per trap, then treat as long as the moth count is above 5 per trap.
1st Generation Codling Moth Degree Day Timing
Application and Insecticide Type
County Area
Biofix
Rimon:

75-100DD + 14-17 days later

Intrepid

150 + 450 DD

Diamides – Altacor, Voliam mixes: (150-200 DD) + 14-21 days later

Madex, Cyd-X, Carpovirusine,

250 DD + every 7-9 days during brood hatch (later if first spray is an IGR)

Standard Insecticides –  Delegate, Avaunt, OP's, carbamates, pyrethroids

250 DD + 550 DD

DD
75
100
150
450
250
250
550
Southern
May 2
May 6
May 13
May 16
June 5
May 23
May 23
June 9
Northern
April 28
May 4
May 8
May 17
June 5
May 22
May 22
June 9
Tufted Apple Budmoth (TABM): If trap counts are high, or above 40 moths per trap, we are considering this to be a high population. If your farm continues to experience high populations, then 4 alternate middle applications of insecticides during June should control the first of 2 generations.
Diseases: Apple Scab, Powdery Mildew, Cedar Apple Rust, and Summer Diseases are diseases of concern at this time.
Apple Scab: Some scab lesions are still present from earlier primary infections. As these sporulate and additional infection periods occur, these leaves will provide an inoculum source for secondary infections. The choices to help deactivate or 'burn out' the inoculum on these leaves and protect the developing fruit (from last week):
Choice 1 – Topsin-M .75-1 lb/A plus 3-4 lb/Captan 80W
Choice 2 – Use a DMI (FRAC Grp 3) systemic fungicide combined with Captan: Captan + Inspire Super (cyprodinil (Grp 9) + difenoconazole (Grp 3)), or Captan +  Cevya (mefentrifluconazole (Grp 3))
Use at least 2 applications back to back 7 days apart, without precipitation wash-off.
After this, a tight summer disease program that incorporates Captan + ProPhyte,  rotated with Merivon or Luna Sensation, should also control any scab infections.
Powdery Mildew: Mildew infections are still present. Effective materials at this time include Inspire Super, Merivon and Luna Sensation. See the NJ Tree Fruit Production guide for rates and efficacies.
Bitter Rot: Growers who have had trouble with bitter rot may wish to include a phosphonate product (e.g. pro-phyt) with captan. Phosphonates contain potassium and my contribute to bitter pit so avoid the use of phosphonates on Honeycrisp until after cell division is complete, usually sometime after the thinning window has closed.
Grapes:
Diseases: Grape diseases active at this growth stage are phomopsis, powdery mildew and black rot . Phomopsis and black rot symptoms are present in southern counties. As we approach bloom, botrytis and downy mildew will also be targets. Disease infection periods can be monitored using the NEWA models. Growers should monitor potential Powdery Mildew infection periods as the current weather pattern is very favorable for this disease. Choose the weather station closest to your vineyard.
Spotted Lanternfly (SLF): SLF nymphs are present throughout the state. Treatments are not suggested if you see only a few nymphs on your vines. However if you see 10-50+ nymphs per vine on a regular basis, then treatment may be justified. Penn State is recommending any of the products in the following table noted with "nymphs."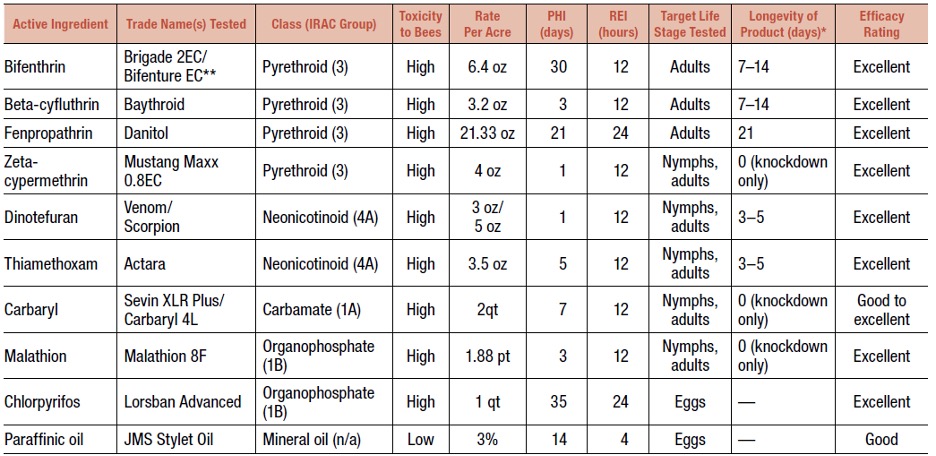 Grape Berry Moth (GBM): The biofix in southern counties for GBM was  5/20. Model timing will predict IGR and diamide materials for the second generation. The first generation is not really important in cultivated grapes, but is starting now in wild grapes, with some adults starting to come into vineyards. Timing for the second generation treatments is set at 810 degree days base 470F. Given the current weather patterns, this should be about June 23 – 26 in southern counties.
Scouting Calendar Tree Fruit Southern Counties
The following table is intended as an aid for orchard scouting. I t should not be used to time pesticide applications. Median dates for pest events and crop phenology are displayed. These dates are compiled from observations made since 1995 in Gloucester County. Events in northern New Jersey should occur 7-10 days later.
| | | |
| --- | --- | --- |
| Pest Event or Growth Stage | Approximate Date | 2019 Observed Date |
| Bud Swell (Redhaven) | March 23 +/- 15 Days | March 29 |
| 1/4″ Green Tip Red Delicious | March 31 +/- 13 Days | March 27 |
| Pink Peach (Redhaven) | April 4 +/- 15 Days | April 4 |
| Tight Cluster Red Delicious | April 9 +/- 13 Days | April 6 |
| Oriental Fruit Moth Biofix | April 9 +/- 13 Days | April 8 |
| Full Bloom Peach (Redhaven) | April 9 +/- 14 Days | April 10 |
| Pink Apple (Red Delicious) | April 14 +/- 12 Days | April 11 |
| Codling Moth Biofix | April 27 +/- 13 Days | May 2 |
| Green Peach Aphid Observed | April 16 +/- 16 Days | April 26 |
| Full Bloom Apple (Red Delicious) | April 22 +/- 11 Days | April 20 |
| Petal Fall (Redhaven) | April 22 +/- 10 Days | April 24 |
| Petal Fall (Red Delicious) | April 27 +/- 14 Days | May 7 |
| Shuck Split (Redhaven) | April 30+/- 11 Days | April 29 |
| First PC Oviposition Scars Observed | May 3 +/- 18 Days | April 29 |
| Tufted Apple Bud Moth Biofix | May 4 +/- 10 Days | May 3 |
| San Jose Scale Crawlers | June 2 +/- 8 Days | Not yet observed |
| White Peach Scale Crawlers | May 26 +/- 11 days | Not yet observed |
| Pit Hardening Peach | June 16 +/- 8 Days | Not yet observed |
Tree  Fruit Trap Counts – Southern Counties
| | | | | | | | | | | |
| --- | --- | --- | --- | --- | --- | --- | --- | --- | --- | --- |
| Weekending | STLM | TABM-A | CM | BMSB | OFM-A | DWB | OFM-P | TABM-P | LPTB | PTB |
| 4/17/21 | 7 | | 0 | | 8 | | 1 | | | |
| 4/24/21 | 12 | | 0 | | 34 | | 2 | | | |
| 5/1/21 | 7 | | 0 | | 11 | | 1 | 0 | 0 | |
| 5/8/21 | 9 | 0 | 0 | | 7 | 0 | 1 | 3 | 0 | |
| 5/15/21 | 4 | 2 | 0 | | 1 | 1 | 1 | 2 | 7 | |
| 5/22/21 | 0 | 2 | 1 | | 0 | 7 | 0 | 3 | 3 | |
| 5/29/21 | 0 | 12 | 1 | | 0 | 12 | 0 | 5 | 1 | |
| 6/05/21 | 0 | 5 | 2 | | 2 | 30 | 0 | 5 | 20 | |
Tree  Fruit Trap Counts – Northern Counties
| | | | | | | | | | | | |
| --- | --- | --- | --- | --- | --- | --- | --- | --- | --- | --- | --- |
| Week Ending | STLM | TABM-A | CM | BMSB | OFM-A | DWB | OBLR | OFM-P | TABM-P | LPTB | PTB |
| 4/3/21 | | | | | 0 | | | 0 | | | |
| 4/10/21 | 0 | | | | 0 | | | 1.4 | | | |
| 4/17/21 | 12 | | 0 | | 1.6 | 0 | | 1.5 | | | |
| 4/24/21 | 14 | | 0 | | 9.4 | 0 | | 4.4 | 0 | | |
| 5/1/21 | 12 | 0 | 0.2 | | 21.6 | 0 | | 7.7 | 0 | 0 | |
| 5/8/21 | 13 | 0.4 | 1.1 | | 23.3 | 0 | | 10.5 | 0.1 | 0 | |
| 5/15/21 | 12 | 0.5 | 0.4 | | 12.7 | 0 | | 2.7 | 0.6 | 0 | 0 |
| 5/22/21 | 15 | 14.3 | 2.1 | | 8.0 | 0.2 | 0 | 1.3 | 8.4 | 5.8 | 0 |
| 5/29/21 | 3 | 30.8 | 3.1 | | 5.3 | 2.1 | 7 | 5.3 | 25.3 | 20.6 | 0.2 |
| 6/05/21 | 2 | 27.4 | 0.5 | | 6.1 | 1.4 | 0 | 3.2 | 32.7 | 7.2 | 0.5 |