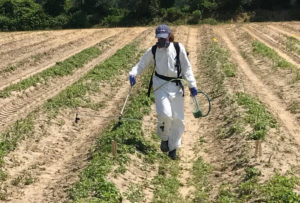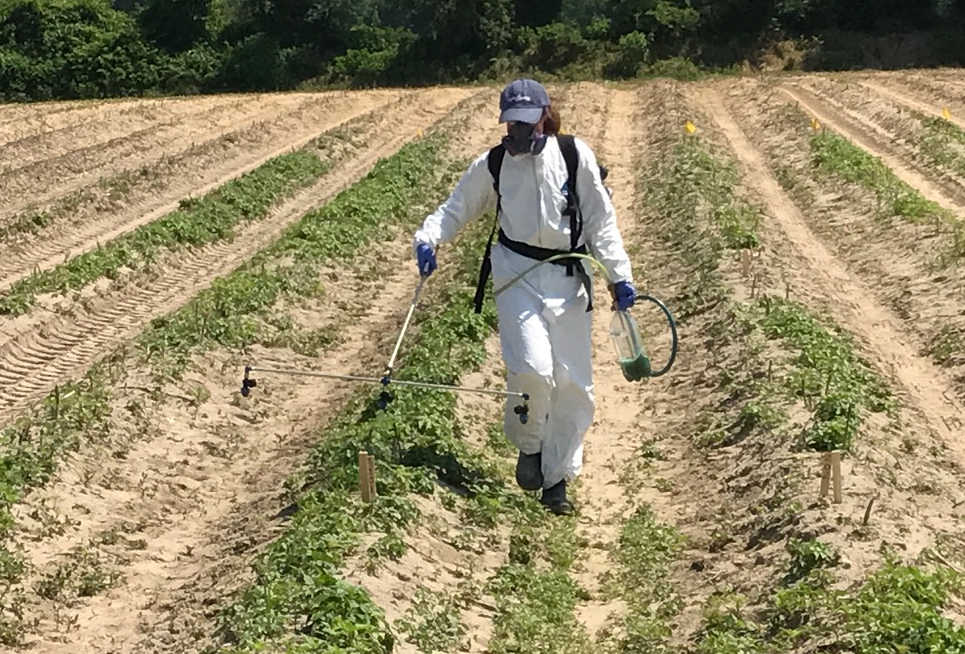 Paraquat is an herbicide labeled on various crops species for row middles applications. However, with new paraquat use restrictions in place, vegetable growers may be interested by other herbicide options available for controlling emerged weed seedlings. Paraquat controls numerous annual grasses and broadleaf weeds seedlings by inhibiting plant photosynthesis. Its acts quickly by contact when absorbed by plant foliage and has no soil activity due to complete soil adsorption. Because of poor translocation, it is essential to have complete foliar coverage to achieve good weed control. Hence, the need for a non-ionic surfactant and the importance of making sure that weeds are not taller than 6" when direct-spraying paraquat in row middles. Paraquat offers relatively good crop safety because it does not translocate and will control a wide range of annual weeds at the seedling stage, which makes it the herbicide of choice for postemergence row middles weed control in labeled crops.
However, paraquat high toxicity to humans either through ingestion, breathing, or simple dermal contact justifies its "Restricted Use Pesticide" classification and the implementation of new EPA regulations since November 2019 (https://plant-pest-advisory.rutgers.edu/gramoxone-paraquat-mandatory-training-required-before-use/)
Chemical alternatives to paraquat are available for vegetable growers but may not provide a similar level of weed control or can have more detrimental effects when contacting the crop because of their systemic activity. All the alternative options presented in this post are classified by WSSA Group Numbers which are based on herbicide site of actions within the plants. All recommendations provided here are strictly limited to shielded row middle applications. Consult label for approved surfactants, application restrictions, pre-harvest intervals, and crop rotation restrictions. The mention of trade names and rates is for educational purposes and does not imply endorsement by the author or the New Jersey Agricultural Experiment Station. Always defer to the product label for instructions on properly applying an herbicide.
 Labeled Crops for Postemergence Row Middles Herbicides
WSSA Group
Product Name
Asparagus
Strawberry
Cucumbers
Pumkin, winter, and summer squash
Cantaloupe
Watermelon
Eggplant
Pepper
Tomato
2
League
–
–
–
–
YES
YES
–
YES
YES
Sandea 75 DF
YES
–
YES
YES
YES
YES
–
YES
YES
Solida 25DF
–
–
–
–
–
–
–
–
YES
4
Spur / Stinger 3A
YES1
YES2
–
–
–
–
–
–
–
Weedar 64
YES
YES
–
–
–
–
–
–
–
5
Metribuzin 75DF
–
–
–
–
–
–
–
–
YES
7
Lorox 50DF
YES
–
–
–
–
–
–
–
–
14
Aim EC
YES
YES
YES
YES
YES
YES
YES
YES
YES
Reflex 2SL
–
–
–
YES3,4
–
YES3
–
–
–
22
Reglone
–
–
–
–
–
–
–
–
YES5
27
Callisto
YES
–
–
–
–
–
–
–
–
1 Only Spur is labeled for use on asparagus
2 Only Stinger is labeled for use on strawberry
3 Special Local Need label approved for New Jersey and expiring on Dec. 21, 2022
4 Labeled only for straight neck yellow, crooked neck yellow, and zucchini summer squash types
5 Special Local Need label approved for New Jersey and expiring on Dec. 31, 2021
Group 2 – Inhibition of amino acids biosythesis

Sandea (halosulfuron), League (imazosulfuron), and Solida (rimsulfuron) have both preemergence and postemergence activity. These herbicides will control emerged seedlings of galinsoga, pigweeds, and ragweed, and suppress yellow nutsedge. League has shown good suppressive activity of common purslane. However, they are weak on common groundsel, common lambsquarters, eastern black nightshade. Sandea and League have little to no activity on grasses whereas Solida will have fair activity on crabgrass, barnyardgrass, and foxtail, but not on goosegrass or fall panicum. Thus, these herbicides should always be tank mixed with an herbicide partner for broadening their weed control spectrum. These herbicides have systemic activity and contact with the planted crop should always be avoided. Postemergence activity will be achieved if targeted weeds are no taller than 3" tall and if the appropriate surfactant is added to the spray solution.
Group 4 – Plant growth regulators
Spur/Stinger (clopyralid) is a soil residual and postemergence herbicide that received a 24(c) Special Local Need label for use on strawberry in New Jersey. Label allows spring and post-harvest applications to control composites (thistle, ragweed, dandelion, groundsel, galinsoga) and leguminous (clover, vetch, mugwort) weeds. It has very little to no activity on other broadleaf weed as well as on grasses. Stinger should not be tank-mixed with any other herbicide or with a surfactant. Weedar 64 (2,4-D) is strictly a postemergence herbicide only labeled for use on asparagus and strawberry. Weedar is active on many annual and perennial broadleaf weeds but is weak on galinsoga and has no activity on grasses. Because of the risk of physical or volatility drift associated with growth regulator herbicides, Stinger, Spur or Weedar should never be applied if sensitive crops (cucurbits, eggplant, pepper, tomato) are planted nearby or if conditions (wind, inversion temperature, topography) favor drift.
Group 5 and 7 – Photosynthesis inhibitors
Metribuzin (metribuzin) is a soil residual and postemergence herbicide labeled for use on tomato that will primarily control broadleaf weeds no taller than 1". Metribuzin provides good control of young seedlings of most broadleaf weeds, except for morningglories and nightshades. Metribuzin can be applied postemergence as a directed spray at least 2 weeks after transplanting and when tomato plants have reached the 5-leaf stage. injury. Lorox (linuron) is labeled for use on asparagus as a postemergence spray before the cutting season or immediately after cutting. Lorox will provide similar control to metribuzin on weeds no taller than 4". Both Metribuzin and Lorox are providing poor control of grasses and should therefore be tank mixed with a graminicide if grass seedlings have already emerged. Contact with the planted crop should always be avoided to reduce the risk of herbicide injury.
Group 14 – Cell membrane disrupters
Aim (carfentrazone) is strictly a postemergence herbicides that acts by contact on many annual broadleaf weeds no taller than 3-4". It has no activity on grasses and only poor to fair efficacy on cocklebur, jimsonweed, and common purslane. Complete foliar coverage is essential to achieve good weed control and will require mixing COC, MSO or a non-ionic surfactant. Reflex (fomesafen) received a 24(c) Special Local Need label for use on pumphin, watermelon, winter and summer squash. Reflex has both soil residual and postemergence activity. It will provide fair to good control of various broadleaf weeds, including galinsoga, pigweeds, jimsonweed, nightshads, ragweed, carpetweed and shepherd's purse, but is weak on grasses. Row middle applications should be made prior to emergence or transplanting for pumpkin and squashes, but are allowed post-transplant for watermelon. Applications should always be made with a shielded sprayer to avoid crop injury.
Group 22 – Cell membrane disrupters
Reglone (diquat) is a postemergence non selective herbicides that belongs to paraquat herbicidal family but has a lower toxicity. Reglone received a 24(c) Special Local Need label for shielded applications in tomato row middles. Spray coverage is essential for optimum effectiveness and can be achieved by mixing a non-ionic surfactant to the spray solution. Reglone is expected to have a similar weed control spectrum than paraquat but local data are needed to confirm its efficacy, especially on grasses.
Group 27 – Pigment inhibitors
Callisto (mesotrione) has both soil residual and postemergence activity and is labeled on asparagus for banded application prior to soear emergence or after harvest. Callisto applied postemergence will provide excellent control of annual broadleaf weeds such as galinsoga, lambsquarters, morningglories, pigweeds, nightshades, or velvetleaf. Callisto is not effective for controlling grasses and only provide limited control of common purslane and common ragweed. Callisto can also help suppressing yellow nutsedge. Applications for controlling targeted weed seedlings should always include COC or a non-ionic surfactant in addition to ammonium sulfate for improving Callisto burndown effectiveness. Weeds should not be taller than 5″ for optimal control.
In summary, there are other chemical options that can replace paraquat for control of emerged weeds in row middles in vegetables. However, most of them will have a more restricted spectrum of weed control than paraquat and will require the growers to properly identify the weed species before deciding which postemergence herbicide they want to use. Most of these herbicides have little to no control of grasses and will therefore require mixing a postemergence grass herbicide such as clethodim or sethoxydim for controlling emerged grass seedlings. Finally, timing of application with regard to weed growth stage is more critical with alternative options than with paraquat, since most of these herbicides require weeds no taller than 3 to 4″, or even 1″ for some herbicides, for achieving proper control.