Governor Chris Christie today declared a state of emergency throughout the state as a result of severe weather conditions expected in the coming days. The National Weather Service is forecasting a dangerous nor'easter weather pattern impacting New Jersey beginning on October 1, 2015, including high winds, very heavy rain, inland river flooding, as well as major coastal flooding with heavy surf and beach erosion. The National Hurricane Center currently has forecasted the track for the impending weather event Joaquin, now a major hurricane, showing it moving northward off the mid-Atlantic coast late on or about October 4, 2015, which may cause significant flooding, dangerous storm surges between eight and ten feet, substantial wind damage, and stream and river flooding threatening homes and other structures, and endangering lives in the State.
ReadyAG Can Help Plan and Prepare
ReadyAG Workbook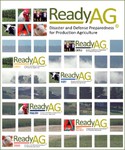 Just as we've finished National Preparedness Month, Governor Christie has declared a state of emergency. In case Hurricane Joaquin takes a turn toward the Jersey Shore this weekend, there are many resources and tools to help get your families and homes prepared. Make sure your farm business is ready too.

ReadyAG—Disaster and Defense Preparedness for Production Agriculture is a tool developed by a team of Extension professionals from across the US for farm and ranch managers to assist being better prepared for any disaster, be it a pending predicted storm or an unexpected event that has the potential to disrupt normal operations and income.
Before disaster strikes, ReadyAG is designed to help identify vulnerabilities and prioritize actions to make agricultural operations more resilient and sustainable in the face of adversity. A general preparedness assessment and commodity-specific sections can be filled out online to create a customized action plan to address items identified as vulnerabilities with a high priority to mitigate.