Sweet Corn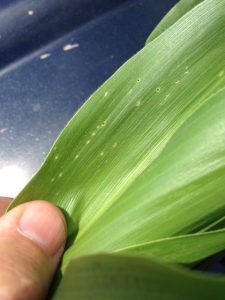 Warmer weather has resulted in the first consistent European corn borer (ECB) catches.  The highest catches have occurred in southern Hunterdon County (see map at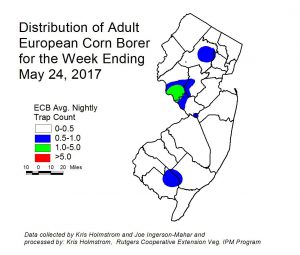 left), although there have been low, but steady catches elsewhere, including northern Cumberland and central Morris counties.  As yet, feeding has been very limited, with only single-digit infestation rates on whorl corn found in Mercer County.  With continued moderate temperatures, expect feeding in whorl stage corn to increase significantly over the next week.  Check 5 plants each in 10 random locations for a 50 plant sample.  Look  for "shot-hole" injury (see photo at right), and  consider treating when the number of infested plants in a 50 plant sample exceeds 12%.
The highest nightly ECB catches for the previous week are as follows:
| | |
| --- | --- |
| Sergeantsville  4 | Denville   1 |
| South Branch   3 | East Vineland  1 |
| Allentown  1 | Eldora   1 |
A few corn earworm (CEW) continue to appear in blacklights throughout the state. These individuals indicate that there was limited overwintering of this pest in NJ, but are of little concern in the absence of silking sweet corn.
Cole Crops
IPM personnel continue to observe infestations of crucifer flea beetle.  These beetles can build to high populations quickly, especially where wild mustard and related cruciferous weeds are common.  Extreme feeding on small transplants can cause irreversible damage if not controlled promptly. [Read more…]