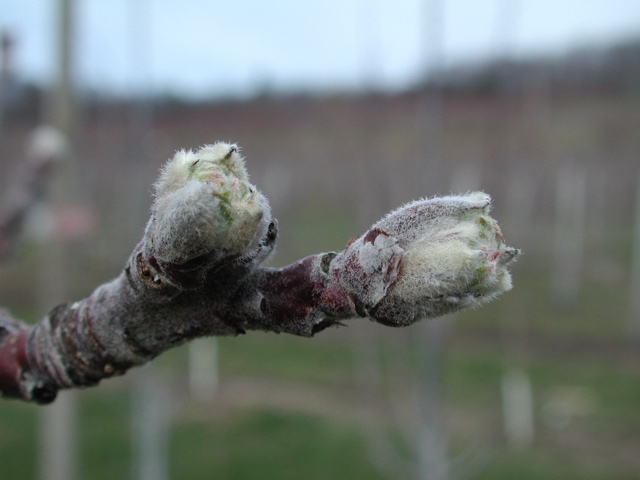 Last week I observed the first green tissue on apples in Gloucester County. Granny Smith was the first to show green tissue and today McIntosh had quite a few buds showing just a hint of green tissue. Warm temperatures forecast over the next few days may advance bud development rapidly.
Using the NEWA Apple Diseases model and plugging in 3/22 as the date for 50% green tip for McIntosh we see that there is about 1% ascospore maturity in Elk Township. While there is inoculum present we are currently at low risk for scab infection even in high inoculum orchards both because there is so few mature ascospores available and so little tissue present. That said, going forward the risk of infection will increase rapidly and infections are possible any time the requirements for an infection period are met. (See table below, Mills' Apple Scab Infection Table).
Copper applied for fire blight control should be sufficient for now, especially where scab was controlled last year. Growers that had scab last year should begin a control program using highly effective materials beginning at 1/4 " green tip. Remember, no fruit scab last year doesn't mean that there was no scab in the orchard. Your orchard may have had low levels of scab on the leaves that may not have been noticeable unless the orchard was scouted regularly. If you are not sure whether or not you had scab last year, treat your orchard as if you did. Materials for early season scab control include Syllit, Vangard, Scala, and EBDC products. For an in depth discussion of early season apple disease control see Dave Rosenberger's article "Fungicide Update for 2016" in the Scaffolds Newsletter.
For Rosy Aphid control, 1/4″ green is the latest that Lorsban or Supracide can be applied. Aphid eggs are hatching now and by 1/2″green the newly hatched aphids have burrowed deep into the bud. Other options for Rosy Aphid control after 1/4″ green include Esteem, and Centaur. See the NJ Commercial Tree Fruit Production guide for rates and timings.
Oil applications for mite and scale suppression should also start now or soon. At 1/4″ green to 1/2″ green apply oil at 2 gals/100 (or 6 gals/acre for for semi dwarf or seedling orchards). Additions of Esteem, Centaur, or Chlorpyrifos, for Rosy Aphid control may improve scale control. Sivanto is a new butenolide insecticide that may be mixed with delayed dormant oil sprays for both San Jose Scale and Rosy Aphid control. Refer to the Sivanto label for rate and timing.
Peach bud development is someone erratic with some white peach cultivars showing a few open blossoms in Gloucester County. Redhaven is the standard for phenology observations and was just past bud swell on 3/21. There may still be time to get leaf curl sprays on but that window is rapidly closing. It's now time to think about pink sprays at least in a few blocks. Blossom infections from the brown rot fungus can occur whenever pistils are exposed and a favorable climate exists. Infections can occur during any wetting period when temperatures are between 41 and 86 ° F. However optimum conditions for infection occur with wetting and temperatures in the mid 70's. During long wetting periods (several days or more) blossoms can be infected regardless of temperature. Generally infections that occur when conditions are sub optimal are less severe.
Oil can be safely applied until pink in peach or white bud in plums and cherries. The addition of Esteem or Centaur should improve green peach aphid control on peach.
It's not too late for oil applications on pear to deter pear psylla ovipostion. At this point include a pyrethroid to remove adults. Include Esteem or begin Surround applications at cluster bud. See the NJ Commercial Tree Fruit Production guide for recommended products and rates.
Resources
NEWA
"Network for Environment and Weather Applications (NEWA) http://newa.cornell.edu connects you with data from electronic weather stations in the Northeast through the Internet. Farmers, consultants, food processors, NYS IPM, airports, and Cornell research farms provide the weather stations. The NEWA website provides weather information for more precise IPM and crop production practices. Weather information and pest forecast models enhance decision-making in IPM, especially for plant diseases and insects."
Mills' Apple Scab Infection Table
Approximate Wetting Period Required for Primary Apple Scab Infection at Different Air Temperatures and Time Required for Development of Conidia
Degree of Infection
Average temperature (°F)
Light (hours)
Moderate (hours)
Heavy (hours)
Lesion Appearance (days)
33–36
48
72
96
?
38
37
50
64
?
39
33
45
60
?
41
26
37
53
?
42
23
33
50
17
43
21
30
47
17
44
19
28
43
17
45
17
26
40
17
47
15
23
35
17
48
15
20
30
17
49
14.5
20
30
17
50
14
19
29
16
51
13
18
27
16
53
12
17
25
15
58
10
14
21
12
59
10
13
21
12
60
9.5
13
20
11
63–75
9
12
18
9
78
13
17
26
Hours of wetness from the beginning of rain (data of W.D. Mills as modified by A.L. Jones). If sporulating lesions are already present, wetting periods required to produce secondary infections are approximately 3 hours less than those listed in the table for primary infection. Number of days required for lesions to appear after infection has been initiated. No further wetting is required. Additional days may be required if conditions are unfavorable for lesion development (prolonged periods above 80 °F or very dry weather).